Happy Friday! I hope your week has been as great as mine. Because I have been doing a bit of traveling this week, I have gone to my samples for fragrance on the go. And for this particular round of travels I selected Hanae Mori eau de parfum by Hanae Mori.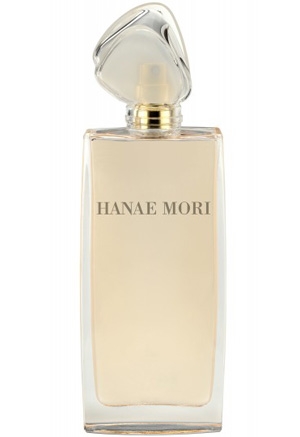 Hanae Mori by Hanae Mori is a sweet oriental. The initial spray of this can come across as a little synthetic in it's sweetness, but that immediately goes aways as it begins to dry down.
With top notes of berries, a middle of floral, and a base of creamy woods, this fragrance has a lot going on in it that makes it difficult to distinguish individual notes. When first applied, I smell a berry sweetness with something cake like -- strawberries and cream. After about an hour, I get a more refined sweetness from the rose and ylang-ylang that keep it from becoming too pastry. The final dry down is mostly of the woods, or more specifically, a note of almond tree. The almond tree is what gives this fragrance the creamy sweetness -- vanilla with an earthiness to it.
This fragrance has moderate sillage and is not overpowering, yet it is long lasting. Because it is not overpowering, I really think this could work in warmer weather, but something about the almond tree note reminds me of warm, delicious, wintertime treats.