I received a sample of Prada Candy eau de parfum soon after it's release in 2011, and I have been hooked ever since. This has to be my favorite sweet fragrance. Prada Candy doesn't go too far on the sugar as it is a very elegant and grown up gourmand. I'm not saying that fans of Aquolina Pink Sugar won't like this, but if you aren't a fan of Pink Sugar you should still have a sniff of Prada Candy.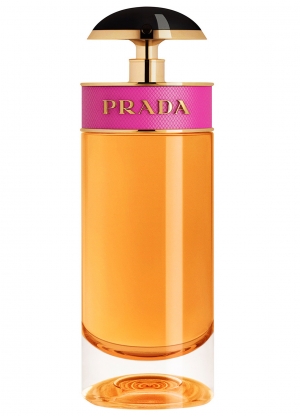 Prada Candy knows how to please a crowd; it is my most complimented fragrance. The notes are very straightforward and not complex -- musk, caramel, and benzoin. It is the resin, benzoin, that keeps Prada Candy from giving you an out of control sugar rush -- a vanilla smell with a touch of something medicinal and spicy. The notes combine to make a nice spiced vanilla caramel.
This fragrance has moderate sillage, so it is not overpowering. Prada Candy is fairly long-wearing, and I can get very close to a full day's wear from it. On my skin, the fragrance softens with time but never changes. It doesn't develop into something different and take me on a fragrance journey like many other fine fragrances. Even so, I find Prada Candy to be absolutely delicious.
I like the warmth that Prada Candy gives in the cooler weather.